About
OUR STORY
Our firm "Hadas Makov Interior Design" was established in 1995 and has become a leading Israel-based interior design firm that specializes in efficient, state-of-the art and sophisticated work environments, mainly serving high-tech companies and their relevant local echo system firms.
Our innovative designs and use of advance materials and technology address customer requirements in an optimal and unique manner. We incorporate green building principals in our thought process and design methods, and we focus on energy efficiency, recycled materials and the integration of smart systems from the initial design phase.
We have on-going collaborations with architectural PM firms in Europe and the US in order to better serve our international clientele. Being one of Israel's leading office design firms, we are committed to provide the most appropriate, creative and innovative design solutions utilizing advanced technology and materials.
We are passionate about what we do and we come to work every day with the desire to plan and design the best that we can for our clients.
About Hadas Makov
Hadas Makov, the firm's founder and managing director, has been successfully designing high-end working environments for a wide range of companies for more than two decades.
She believes in creating inspiring and highly functional work spaces by translating the customer's organizational culture, values and needs into an optimally designed solution.
Her personal supervision of each and every project phase ensures the successful completion and delivery of all objectives on schedule and within budget.
Hadas' extensive knowledge and expertise in Israeli standards and regulations provide customers with bespoke and comprehensive solutions for their project needs.
OUR TEAM
We believe in excellence, highly effective teamwork and ultimate commitment to customer success. We live by these values on a daily basis.
Throughout the years prominent interior designers have joined our firm, offering our clients the privilege of enjoying a wide range of talented and highly skilled professionals.
The team leadership provided by Hadas ensures each team's superior performance. Her extensive managerial experience and the ability to assign each designer with the most suitable project, guarantees the perfect ambience to best address client needs.
Keren Liskovsky
Senior Interior Designer Keren is a chief designer and has been working in our firm for the past 12 years. She has across-the-board experience in planning and designing the offices of leading global firms and is skilled at understanding and communicating customer DNA, needs and requirements from initial stages through to completion. She provides highly professional, creative and committed service and is familiar with local jurisdiction, standards and regulations.
GALIT SHARON
Interior DesignerGalit is passionate about creating designs which adhere to the firm's design approach and values incorporating vision, functionality and comfort, while maintaining an element of surprise and creative innovation in her designs. With 14 years of experience working with commercial and corporate clients, Galit is committed to superior design solutions while controlling and balancing costs and schedule. She strives to develop a personal and warm relationship with clients, in order to better understand their dreams and their requirements.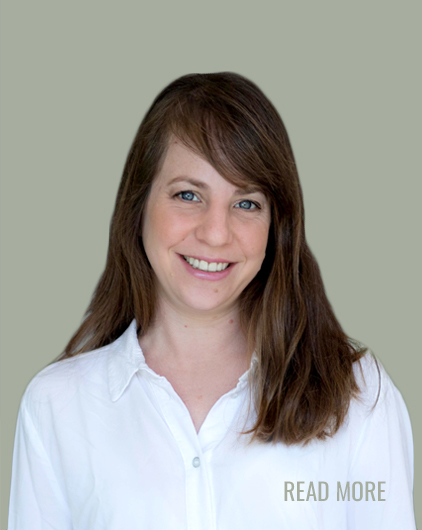 REUT KIMELDORF RUBINSTEIN
Interior Designer .With more than 15 years of experience in architectural design' 10 of which have focused on building information modelling (BIM), Reut heads our firm's design technology. She provides direction and strategic leadership to BIM across the firm and is skilled in developing and executing plans, as well as establishing methodologies and practices for design-technology integration.
ADI LUSTER
Senior Interior DesignerAdi is a chief designer with more than 15 years of experience in designing offices for local and global firms. She manages all projects with great attention to detail, schedule and budget without compromising creativity and design. Adi is dedicated to her clients throughout all stages of a project from initial inception, through design development, to delivery and beyond. She manages all project components including briefing, presentations, design development, and client liaison. Adi is known to really "live" her projects.
ORIN MALICHI KARHULA
Interior Designer.Orin excels at working with design and construction teams, ensuring that the client's vision becomes a reality and includes superior quality and uncompromising design. She interprets he needs and goals of each client and translates it to design of the highest level. Orin has experience in a wide variety of projects yet mostly in office design. For her, developing a healthy and functional space for the end user is key to a project's success.
SHIRI GIVOLY
Marketing & Customer Relations.With 22 years of experience in marketing and a passion for design, Shiri manages our public relations and business intelligence. As an accomplished marketing leader, Shiri provides strategic direction for our client partnership teams. She as an in-depth knowledge of the commercial real estate industry and unwavering commitment to support client needs. Shiri ensures that Hadas Makov Interior Design provides an integrated delivery model that creates value through strategy, design and construction services for clients.